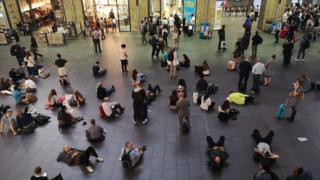 A lightning strike and the rare loss of two large generators from the system caused nearly a million people to lose power in England and Wales earlier this month, an interim report has found.
The National Grid outage affected homes, businesses and transport, and while power was restored quite quickly, disruption continued into the next day.
Regulator Ofgem has opened an investigation into National Grid and other companies involved.
That could involve a financial penalty.
A final, technical report from National Grid is due to be published by 6 September.
Ofgem said its investigation "would try to establish what lessons can be drawn from the power cut to ensure that steps can be taken to further improve the resilience of Britain's energy network".
Rare and unexpected event
The power cut, which happened just before 17:00 BST on Friday 10 August, caused blackouts across the Midlands, the South East, South West, North West and North East of England, and Wales.
Thousands of homes lost power, people were stranded on trains and traffic lights stopped working
Power was restored by 17:40 BST, but problems on the rail network carried on over the weekend.
Two almost simultaneous unexpected power losses at Hornsea and Little Barford occurred independently of one another – but each associated with the lightning strike.