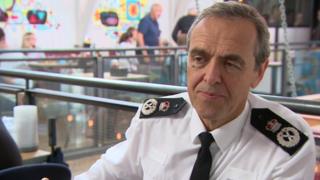 A senior police chief has urged the public to "lend a hand" if they see officers in confrontational situations.
Devon and Cornwall's Chief Constable Shaun Sawyer asked the public to stop videoing officers when "they're getting a kicking" and "perhaps lend a hand".
He told BBC Devon people should not film incidents and should "consider using the phone to call someone".
Devon and Cornwall Police clarified they were "not advising" people to get physically involved.
Mr Sawyer said the situation was not a "sob story" and was "just the reality".
"I have officers who are acting with compassion, with professionalism, with pride being assaulted day after day after day," he added.
Assistant Chief Constable Jim Colwell said the force did not condone members of the public "putting themselves in harm's way".
"It's more about how the public can play an active and meaningful role in keeping our communities safe," he added.
Mr Sawyer also said the public would be shocked if they knew the pressure officers were under and said the demand on particularly the control room and response officers was "never ending".