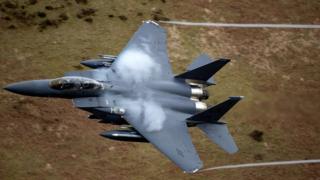 Two freefalling parachutists practically collided in mid-air with two US fighter planes travelling at nearly 350mph (560km/h), a report has revealed.
The skydivers recorded the plane go underneath them on a helmet digicam as they fell at 120mph (190km/h).
The pilots from RAF Lakenheath ought to have been informed by air site visitors management the Cambridgeshire parachute web site was lively, mentioned the UK Airprox Board.
The US Air Force base was re-briefing crews to make them conscious, it added.
The board was unable to determine how shut the 2 pairs got here to colliding through the incident over Chatteris airfield on 17 April, and labeled it in the second-highest hazard class.
"The board was shown Go-Pro footage filmed from the helmet of one of the parachutists and could clearly see the F15s passing beneath," mentioned the report.
The jets had made a flip shortly earlier than to keep away from a refuelling tanker and had been then handed over from air site visitors controllers at RAF Coningsby in Lincolnshire to these at Lakenheath in Suffolk, residence of the US Air Force's 48th Fighter Wing.
"However, the frequency became busy just as they transferred and so, by the time the F15 pilots checked in with the controller, they were already about to fly over Chatteris," mentioned the report.
The pilots "should have known about its position and activities as part of their normal briefing routine", and both questioned air site visitors management or averted it, it added.
Operators from Chatteris airfield, the place a number of parachute golf equipment are primarily based, name close by air site visitors controllers every morning to inform them if they're lively, and the dropping plane additionally alerts them.
The Airprox board mentioned there was "very little more that Chatteris could have done".
The parachutists had "no control over their speed or direction while in freefall", however might have opened their parachutes to gradual their descent, the report added.