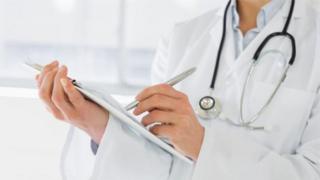 Nearly 300,000 people in Northern Ireland are on a waiting list for a first appointment with a consultant, according to the latest Department of Health figures.
A total of 299,436 patients were waiting at the end of June.
That is 23,500 more than the previous year – a rise of 8.5%.
More than a third of patients have waited for more than a year – targets state no-one should wait longer than 52 weeks.
The waiting times for medical tests has also increased.
In June, 138,647 patients were waiting for such a service, with more than half of them waiting longer than nine weeks.
On Thursday, Stormont's Department of Health said it "shared the widespread frustration and concern" about hospital waiting times.
It said the the backlog was due to financial pressures over several years, with the health budget continuing to face significant pressures.
'Utterly appalling'
"We have been clear that substantial and sustained investment will be required to address the waiting time backlog," added the department.
"There are many competing demands for additional spending across different parts of the health and social care system."
The department added that it "cannot spend money it does not have".
Alliance Party MLA Paula Bradshaw MLA described the waiting list backlog as "utterly appalling".
"The strain caused to patients and carers is causing further harm to people's basic wellbeing," she said.
"Those with means are understandably jumping out of the queue altogether and using private providers at a fee, meaning the basic premise of the NHS – that all people should be treated the same regardless of wealth – is being breached."